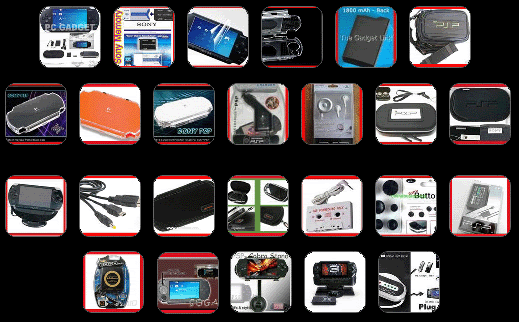 The PSP doesn't warrant too many accessories due to the fact that it doesn't make any sense in loading it with unnecessary clutter. However there are some important accessories that you might want to consider



A simple leather pouch and a nifty bag to hold the machine


The PSP is usually for the travel freaks and the more you travel, chances are that you might end up damaging the beautiful wide screen which is the distinguishing feature in the PSP. So you might want to invest that little bit in getting yourself a snugly fitting small leather pouch. All the more better if you can afford the more expensive ones made of genuine leather and have those multiple pockets to put in your memory sticks, chargers and the like. You might even want to consider Logitech's Playgear Street case.



Headphones with Remote


These newly released sony headphones with a remote lets you place the handheld straight up like a TV screen and then lets you choose from the menu – especially when playing music or toggling between options for viewing movies. The navigation becomes incredibly easy with the remote so you might just want to try it out.



Compatible AV cables


This really depends if you want to do it, but these are important if you want to enjoy the gaming experience on the Television for a large screen effect or if you want o plug and play music through another player or another set of speakers. These cables are sold separately and you need to buy them that way. Do take note that the cable set includes the composite video connector, as well as the left and right audio channels.



Memory Stick


For a very simple reason that you might want more space to hold your music, movies and games. You might need that extra space to store all those photos too. There are a wide variety and storage capacities you can choose from, but usually storage capabilities starting from 1 GB to 8 GB is more than enough.